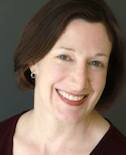 Lisa Gluskin Stonestreet
Lisa Gluskin Stonestreet and Robert Thomas
16 NOVEMBER 2014 — sunday
Poetry Flash presents a poetry reading and book launch by Lisa Gluskin Stonestreet and Robert Thomas, request ASL interpreters one week in advance from editor@poetryflash.org, wheelchair accessible, Diesel, A Bookstore, 5433 College Avenue, Oakland, 3:00 (510/653-9965, dieselbookstore.com)

MORE ABOUT THE READERS
Lisa Gluskin Stonestreet's new book of poems, The Greenhouse, is the winner of the 2014 Frost Place Chapbook Prize. David Baker says, "The poems of The Greenhouse are profound, fundamental works, born of a deep interiority and making their intricate ways, phrase by phrase, toward a design both organic and artful." Her first full-length book of poems is Tulips, Water, Ash, winner of the 2009 Morse Poetry Prize, selected and introduced by Jean Valentine. Among her awards are a Javits fellowship and a Phelan Award.
Robert Thomas's first book of poems, Door to Door, was the winner of Fordham University's Poets Out Loud Prize, selected by Yusef Komunyakaa, who said of it, "Often in a Robert Thomas poem, we are in this world and outside of it. The ordinary and the fantastic are one.…If these poems at times seem surreal, it is surrealism with a compelling voice, not as an embodiment of linguistic or imagistic tomfoolery, but as a way of unveiling mystery that redeems. When following the twists and turns through Door to Door, the reader knows that the last two lines of "The Ballad of Martin and Geraldine" are truly earned: "Let's scorch the orchid with all our art. / Take on my bare, unfurnished heart." His second book of poems is Dragging the Lake. His new book, Bridge, is fiction, set in contemporary San Francisco. Laura Kasischke says, "Robert Thomas has done the nearly impossible in this age. He has written something entirely new, shockingly strange, and strangely traditional. It is a gem of many facets, a collection of sharp glints and details that culminate in a shattering whole. Robert Thomas is a writer with a cosmic vision, who has managed to bring it to Earth in small domestic detail and psychological accuracy." Among his honors are a Pushcart Prize and a poetry fellowship from the National Endowment for the Arts.
Daily Listings
< previous month | show all AUGUST | next month >
6 AUGUST 2020 — thursday
7 AUGUST 2020 — friday
8 AUGUST 2020 — saturday
9 AUGUST 2020 — sunday
10 AUGUST 2020 — monday
11 AUGUST 2020 — tuesday
12 AUGUST 2020 — wednesday
13 AUGUST 2020 — thursday
14 AUGUST 2020 — friday
15 AUGUST 2020 — saturday
16 AUGUST 2020 — sunday
17 AUGUST 2020 — monday
18 AUGUST 2020 — tuesday
19 AUGUST 2020 — wednesday
20 AUGUST 2020 — thursday
21 AUGUST 2020 — friday
22 AUGUST 2020 — saturday
23 AUGUST 2020 — sunday
24 AUGUST 2020 — monday
25 AUGUST 2020 — tuesday
26 AUGUST 2020 — wednesday
27 AUGUST 2020 — thursday
28 AUGUST 2020 — friday
29 AUGUST 2020 — saturday
30 AUGUST 2020 — sunday
31 AUGUST 2020 — monday