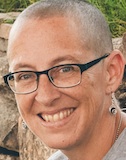 Michelle Wing
Tania Pryputniewicz, Ruth Thompson, Michelle Wing
11 NOVEMBER 2014 — tuesday
Poetry Flash presents a poetry reading by Tania Pryputniewicz, Ruth Thompson, and Michelle Wing, please note that this rescheduled reading is on a different day than the usual series, request ASL interpreters one week in advance from editor@poetryflash.org, wheelchair accessible, Moe's Books, 2476 Telegraph Avenue, Berkeley, 7:30 (510/849-2087, www.moesbooks.com)

MORE ABOUT THE READERS
Tania Pryputniewicz's first book of poems is November Butterfly. A graduate of the Iowa Writer's Workshop, she's the Managing Poetry Editor of The Fertile Source. A co-founding blogger for Mother, Writer, Mentor, she teaches poetry and Transformative Blogging for several different workshops, blogs for Feral Mom, Feral Writer, and creates award-winning micro movies and photo poem montages of her poetry for the Web.
Ruth Thompson's new book of poems (in a new, revised edition) is Woman with Crows. Frank X. Gaspar says, "There are many Zen-like moments of pure being in these poems, and there is also grief and questioning. Yet Ruth Thompson stares down her hungry ghosts and tames them…taken together, these poems accrue to a kind of wise triumph." Among her honors are the New Millennium Writings Poetry Award and the Harpur Palate Milton Kessler Memorial Award. Her chapbook Here Along Cazenovia Creek was the basis for a poetry and dance collaboration with Japanese dancer Shizuno Nasu.
Michelle Wing's debut poetry collection is Body on the Wall. Janet Fitch says of it, "These poems are like swallowed charcoal, purifying the toxins they've ingested. Brave, bracing, tender and true." Her poetry and creative nonfiction have been widely published. She writes a monthly literary column for a chain of newspapers in Sonoma County.
This reading is rescheduled from June 2014 and is on a different day than the usual Poetry Flash reading series events.
Daily Listings
< previous month | show all AUGUST | next month >
6 AUGUST 2020 — thursday
7 AUGUST 2020 — friday
8 AUGUST 2020 — saturday
9 AUGUST 2020 — sunday
10 AUGUST 2020 — monday
11 AUGUST 2020 — tuesday
12 AUGUST 2020 — wednesday
13 AUGUST 2020 — thursday
14 AUGUST 2020 — friday
15 AUGUST 2020 — saturday
16 AUGUST 2020 — sunday
17 AUGUST 2020 — monday
18 AUGUST 2020 — tuesday
19 AUGUST 2020 — wednesday
20 AUGUST 2020 — thursday
21 AUGUST 2020 — friday
22 AUGUST 2020 — saturday
23 AUGUST 2020 — sunday
24 AUGUST 2020 — monday
25 AUGUST 2020 — tuesday
26 AUGUST 2020 — wednesday
27 AUGUST 2020 — thursday
28 AUGUST 2020 — friday
29 AUGUST 2020 — saturday
30 AUGUST 2020 — sunday
31 AUGUST 2020 — monday