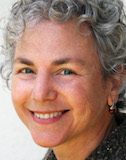 Ellen Bass
Ellen Bass and Robin Becker
23 OCTOBER 2014 — thursday
Poetry Flash presents a reading by Ellen Bass and Robin Becker, request ASL interpreters one week in advance from editor@poetryflash.org, wheelchair accessible, Moe's Books, 2476 Telegraph Avenue, Berkeley, 7:30 (510/849-2087, www.moesbooks.com)

MORE ABOUT THE READERS
Ellen Bass's new book of poems is Like a Beggar. Toi Derricotte says, "Good poets help us to see the world in a new way; great ones open the mind to new ways of conceiving that world and our connections to it. Like a Beggar does this for me." Among her previous collections are The Human Line and Mules of Love. She co-edited the groundbreaking anthology of women's poetry, No More Masks! and her non-fiction includes the bestseller The Courage to Heal.
Robin Becker's new book of poems is Tiger Heron. Ellen Bass says of it, "Robin Becker looks straight at the failures of our human species, yet never loses her compassion or reduces the complexities and paradoxes to easy conclusions. Deftly, precisely, these poems express their wisdom in lines that surprise and delight." Author of seven poetry collections, including Domain of Perfect Affection, Giacometti's Dog, and All-American Girl, which won the Lambda Literary Award, she is poetry editor and writes a column on poetry for the Women's Review of Books. Among her honors are fellowships from the Bunting Institute, Massachusetts Cultural Council, and National Endowment for the Arts.
Daily Listings
< previous month | show all AUGUST | next month >
6 AUGUST 2020 — thursday
7 AUGUST 2020 — friday
8 AUGUST 2020 — saturday
9 AUGUST 2020 — sunday
10 AUGUST 2020 — monday
11 AUGUST 2020 — tuesday
12 AUGUST 2020 — wednesday
13 AUGUST 2020 — thursday
14 AUGUST 2020 — friday
15 AUGUST 2020 — saturday
16 AUGUST 2020 — sunday
17 AUGUST 2020 — monday
18 AUGUST 2020 — tuesday
19 AUGUST 2020 — wednesday
20 AUGUST 2020 — thursday
21 AUGUST 2020 — friday
22 AUGUST 2020 — saturday
23 AUGUST 2020 — sunday
24 AUGUST 2020 — monday
25 AUGUST 2020 — tuesday
26 AUGUST 2020 — wednesday
27 AUGUST 2020 — thursday
28 AUGUST 2020 — friday
29 AUGUST 2020 — saturday
30 AUGUST 2020 — sunday
31 AUGUST 2020 — monday