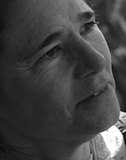 Jane Mead
Judy Halebsky and Jane Mead
19 OCTOBER 2014 — sunday
Poetry Flash presents a poetry reading and book launch by Judy Halebsky and Jane Mead, request ASL interpreters one week in advance from editor@poetryflash.org, wheelchair accessible, Diesel, A Bookstore, 5433 College Avenue, Oakland, 3:00 (510/653-9965, dieselbookstore.com)

MORE ABOUT THE READERS
Judy Halebsky's new book is Tree Line. Susan Kelly-Dewitt says, "Moving between language/s, non-language and those countries in between, the poems in Tree Line function as a kind of lineated Noh theater…Every moment is a border-crossing, a tree line of sorts and a chance for enlightenment." Her first collection, Sky=Empty, won the New Issues Prize and was a finalist for the California Book Award. Her chapbook, Space/Gap/Interval/Distance, won the Poets-Under-Forty Award from Sixteen Rivers Press.
Jane Mead's new book is Money Money Money Water Water Water. Cole Swenson says, "It's a beautiful, seamless book that never stops gathering force—one in which the strength, brilliance, and movement of the phrase is the ultimate ecosystem." She's the author of three previous collections, most recently The Usable Field, and she's the recipient of grants and awards from the Whiting, Guggenheim, and Lannan foundations.
Daily Listings
< previous month | show all AUGUST | next month >
6 AUGUST 2020 — thursday
7 AUGUST 2020 — friday
8 AUGUST 2020 — saturday
9 AUGUST 2020 — sunday
10 AUGUST 2020 — monday
11 AUGUST 2020 — tuesday
12 AUGUST 2020 — wednesday
13 AUGUST 2020 — thursday
14 AUGUST 2020 — friday
15 AUGUST 2020 — saturday
16 AUGUST 2020 — sunday
17 AUGUST 2020 — monday
18 AUGUST 2020 — tuesday
19 AUGUST 2020 — wednesday
20 AUGUST 2020 — thursday
21 AUGUST 2020 — friday
22 AUGUST 2020 — saturday
23 AUGUST 2020 — sunday
24 AUGUST 2020 — monday
25 AUGUST 2020 — tuesday
26 AUGUST 2020 — wednesday
27 AUGUST 2020 — thursday
28 AUGUST 2020 — friday
29 AUGUST 2020 — saturday
30 AUGUST 2020 — sunday
31 AUGUST 2020 — monday