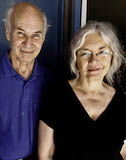 Richard Silberg & Joyce Jenkins
Poetry Flash at Lit Crawl: giovanni singleton, Judy Halebsky, more
18 OCTOBER 2014 — saturday
The fifteenth annual Litquake, San Francisco's Literary Festival, presents its tenth annual Lit Crawl in the Mission District's Valencia Street corridor, featuring "Poetry Flash and Friends," poetry by editors, and contributors Judy Halebsky, Stephen Kessler, Richard Silberg, giovanni singleton, and Alan Soldofsky, with host, editor and director Joyce Jenkins, Chrome, 962 Valencia Street, San Francisco, free, 7:15-8:15 (www.litquake.org)

MORE ABOUT THE READER
Poetry Flash & Friends at Lit Crawl! Hear current/past editors and contributors to Poetry Flash, California's iconic online literary review and calendar, read from their work and tell stories about the Flash.
Featuring:
Judy Halebsky is author of Tree Line and Sky=Empty; she won the Sixteen Rivers Press Poets-Under-Forty Chapbook Contest for Space/Gap/Interval/Distance. She teaches at Dominican University in San Rafael.
Stephen Kessler's recent books are Scratch Pegasus and Poems of Consummation by Vicente Aleixandre. He's a poet, editor of The Redwood Coast Review, translator, and a Poetry Flash Contributing Editor.
Richard Silberg is Associate Editor of Poetryflash.org. His latest book is The Horses: New & Selected Poems; he hosts the Poetry Flash Reading Series.
giovanni singleton won the California Book Award for Ascension, which was reviewed in Poetry Flash. She is coordinator of the UC Berkeley Lunch Poems series.
Alan Soldofsky is author of In the Buddha Factory and Creative Writing Director at San Jose State University. He was an early Poetry Flash Contributing Editor.
Host: Joyce Jenkins, Editor-Director, Poetry Flash, Literary Review and Calendar for the West. Her poems appeared most recently in Burning the Midnight Oil, an anthology.
Photo by Bob Fischer at Poetry Flash, Berkeley.
Daily Listings
< previous month | show all AUGUST | next month >
6 AUGUST 2020 — thursday
7 AUGUST 2020 — friday
8 AUGUST 2020 — saturday
9 AUGUST 2020 — sunday
10 AUGUST 2020 — monday
11 AUGUST 2020 — tuesday
12 AUGUST 2020 — wednesday
13 AUGUST 2020 — thursday
14 AUGUST 2020 — friday
15 AUGUST 2020 — saturday
16 AUGUST 2020 — sunday
17 AUGUST 2020 — monday
18 AUGUST 2020 — tuesday
19 AUGUST 2020 — wednesday
20 AUGUST 2020 — thursday
21 AUGUST 2020 — friday
22 AUGUST 2020 — saturday
23 AUGUST 2020 — sunday
24 AUGUST 2020 — monday
25 AUGUST 2020 — tuesday
26 AUGUST 2020 — wednesday
27 AUGUST 2020 — thursday
28 AUGUST 2020 — friday
29 AUGUST 2020 — saturday
30 AUGUST 2020 — sunday
31 AUGUST 2020 — monday