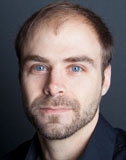 Travis Mossotti
Travis Mossotti and Kerry James Evans
9 OCTOBER 2014 — thursday
Poetry Flash presents a poetry reading by Travis Mossotti and Kerry James Evans, request ASL interpreters one week in advance from editor@poetryflash.org, wheelchair accessible, Moe's Books, 2476 Telegraph Avenue, Berkeley, 7:30 (510/849-2087, www.moesbooks.com)

MORE ABOUT THE READERS
Kerry James Evans's debut book of poems is Bangalore. Booklist calls it, "A strong contribution to wartime poetry composed by combatants…Given recent controversy over domestic surveillance and enlisted whistle-blowers, this is a necessary read, indeed." He served six years in the Army National Guard as a combat engineer.
Travis Mossotti's debut collection, About the Dead, is a May Swenson Award winner. Garrison Keillor, in his foreword, says, "…reading it was like following the poet up a steep climb on a rocky slope as he improvised his route, and at every step I was struck by the rightness of his choices, surprised by so many odd words that seemed so exactly right." He was awarded the James Hearst Poetry Prize from the North American Review in 2009, and the book's long opening poem, "Decampment," was adapted as an animated film in 2010.
Daily Listings
< previous month | show all AUGUST | next month >
6 AUGUST 2020 — thursday
7 AUGUST 2020 — friday
8 AUGUST 2020 — saturday
9 AUGUST 2020 — sunday
10 AUGUST 2020 — monday
11 AUGUST 2020 — tuesday
12 AUGUST 2020 — wednesday
13 AUGUST 2020 — thursday
14 AUGUST 2020 — friday
15 AUGUST 2020 — saturday
16 AUGUST 2020 — sunday
17 AUGUST 2020 — monday
18 AUGUST 2020 — tuesday
19 AUGUST 2020 — wednesday
20 AUGUST 2020 — thursday
21 AUGUST 2020 — friday
22 AUGUST 2020 — saturday
23 AUGUST 2020 — sunday
24 AUGUST 2020 — monday
25 AUGUST 2020 — tuesday
26 AUGUST 2020 — wednesday
27 AUGUST 2020 — thursday
28 AUGUST 2020 — friday
29 AUGUST 2020 — saturday
30 AUGUST 2020 — sunday
31 AUGUST 2020 — monday