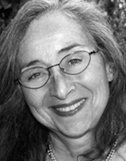 Marcia Falk
Marcia Falk and Steven Rood
7 SEPTEMBER 2014 — sunday
Poetry Flash presents a reading by poet, scholar, and translator from both Hebrew and Yiddish, Marcia Falk and poet Steven Rood, request ASL interpreters one week in advance from editor@poetryflash.org, wheelchair accessible, Diesel, A Bookstore, 5433 College Avenue, Oakland, 3:00 (510/653-9965, dieselbookstore.com)


MORE ABOUT THE READERS
Marcia Falk is a poet, a scholar, and a translator from both Hebrew and Yiddish. Her latest book is The Days Between: Blessings, Poems, and Directions of the Heart for the Jewish High Holiday Season, a volume for those seeking to connect more deeply with their Judaism, and for all readers in search of a contemplative approach to the themes of the fall season. Among her other publications are three books of poems, a translation of The Song of Songs praised by both Isaac Bashevis Singer and Adrienne Rich, a translation of the twentieth century mystic Zelda Schneurson Mishkovsky from the Hebrew, and another of the Yiddish modernist Malka Heifetz Tussman.
Steven Rood's book of poems I Say Your Name is devoted to the memory of two men, the great poet Jack Gilbert, and to Rood's own late psychotherapist, poems of vivid, loving re-creation, humor, and profound empathy. He has been for many years a member of the workshop begun by the legendary poet Jack Gilbert at San Francisco State in 1967 and continuing to this day, and he was a primary caregiver to Gilbert during his last Alzheimer's days. These two readers are husband and wife.
Daily Listings
< previous month | show all AUGUST | next month >
6 AUGUST 2020 — thursday
7 AUGUST 2020 — friday
8 AUGUST 2020 — saturday
9 AUGUST 2020 — sunday
10 AUGUST 2020 — monday
11 AUGUST 2020 — tuesday
12 AUGUST 2020 — wednesday
13 AUGUST 2020 — thursday
14 AUGUST 2020 — friday
15 AUGUST 2020 — saturday
16 AUGUST 2020 — sunday
17 AUGUST 2020 — monday
18 AUGUST 2020 — tuesday
19 AUGUST 2020 — wednesday
20 AUGUST 2020 — thursday
21 AUGUST 2020 — friday
22 AUGUST 2020 — saturday
23 AUGUST 2020 — sunday
24 AUGUST 2020 — monday
25 AUGUST 2020 — tuesday
26 AUGUST 2020 — wednesday
27 AUGUST 2020 — thursday
28 AUGUST 2020 — friday
29 AUGUST 2020 — saturday
30 AUGUST 2020 — sunday
31 AUGUST 2020 — monday