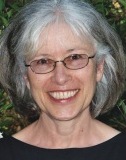 Beverly Burch
Beverly Burch and Katherine Hastings
7 AUGUST 2014 — thursday
Poetry Flash presents a reading by Beverly Burch and Katherine Hastings, request ASL interpreters one week in advance from editor@poetryflash.org, wheelchair accessible, Moe's Books, 2476 Telegraph Avenue, Berkeley, 7:30 (510/849-2087, www.moesbooks.com)

MORE ABOUT THE READERS
Beverly Burch's new book of poems is How a Mirage Works. Cyrus Cassells says, "How a Mirage Works [is] marked by a subtle, free-flowing music and an almost surgical attention to sensuous, definitive detail…Her work is blessedly sane and concise." Her first book of poems, Sweet to Burn, won the Gival Poetry Prize and a Lambda Literary Award. A psychotherapist as well as a poet, she has also published two nonfiction books, On Intimate Terms and Other Women.
Katherine Hastings's new book of poems is Nighthawks. Gerald Fleming says, "If there's such a thing as fierce Buddhism, Katherine Hastings' Nighthawks finds it. Here is nature in minutely observed, embroidered detail, juxtaposed with terse and stark observations keyed from Rexroth's 'holiness of the real.'" Her first full-length collection is Cloud Fire. She's the editor of What Redwoods Know: Poems from California State Parks, which was sold to benefit the California State Parks Foundation. She's also executive director of the nonprofit WordTemple, host of WordTemple on NPR affiliate KRCB FM, and curator of the WordTemple Poetry Series and WordTemple Arts and Lectures in Sonoma County, California.
Daily Listings
< previous month | show all AUGUST | next month >
6 AUGUST 2020 — thursday
7 AUGUST 2020 — friday
8 AUGUST 2020 — saturday
9 AUGUST 2020 — sunday
10 AUGUST 2020 — monday
11 AUGUST 2020 — tuesday
12 AUGUST 2020 — wednesday
13 AUGUST 2020 — thursday
14 AUGUST 2020 — friday
15 AUGUST 2020 — saturday
16 AUGUST 2020 — sunday
17 AUGUST 2020 — monday
18 AUGUST 2020 — tuesday
19 AUGUST 2020 — wednesday
20 AUGUST 2020 — thursday
21 AUGUST 2020 — friday
22 AUGUST 2020 — saturday
23 AUGUST 2020 — sunday
24 AUGUST 2020 — monday
25 AUGUST 2020 — tuesday
26 AUGUST 2020 — wednesday
27 AUGUST 2020 — thursday
28 AUGUST 2020 — friday
29 AUGUST 2020 — saturday
30 AUGUST 2020 — sunday
31 AUGUST 2020 — monday