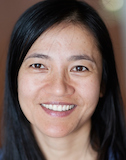 Tsering Wangmo Dhompa
Tsering Wangmo Dhompa, Ann Pelletier, Barbara Tomash
24 JULY 2014 — thursday
Poetry Flash presents a reading by Tsering Wangmo Dhompa, Ann Pelletier, and Barbara Tomash, request ASL interpreters one week in advance from editor@poetryflash.org, wheelchair accessible, Moe's Books, 2476 Telegraph Avenue, Berkeley, 7:30 (510/849-2087, www.moesbooks.com)

MORE ABOUT THE READERS
Tsering Wangmo Dhompa's recent book of poems is My rice tastes like the lake, finalist for the Northern California Independent Bookseller Award 2012. Anne Waldman says, "Dhompa's potent suite of poems elucidates and vocalizes the humanness and adversities of the Tibetan diaspora…You enter the immigrant girl-child's bifurcated world, coming and going, language to language, culture to culture, from childhood to sexuality, taking Dhompa's ride in her elegantly adopted American-English poet's 'tongue.'" She has two previous collections, In the Absent Everydayand Rules of the House. Her non-fiction book, A Home in Tibet, was published by Penguin, India, in 2013. She teaches creative writing at UC Santa Cruz.
Ann Pelletier's manuscript, "Strange Invention," was a finalist for the Black Lawrence St. Lawrence Prize and the Word Works Washington Prize and a semi-finalist for the Bauhan May Sarton, Blue Lynx, Brittingham, Pollak, and 42 Miles Press prizes. Her work has been published in The Antioch Review, Cider Press Review, Hunger Mountain, New American Writing, Spillway, Requited, VOLT, and other journals.
Barbara Tomash's new book of poems is Arboreal. Maxine Chernoff says, "In Barbara Tomash's exquisite new book, Arboreal, a narrator leads us through a set of deep questions about life and death and all that is in between, questions as to 'whether a sentence can breathe or not.' Our lamp is 'the light in the fingertips,' and the body and mind are on a search for what is of value and what is not." Her two previous collections are Flying in Water, winner of the 2005 Winnow First Poetry Award, and The Secret of White. Her poems have appeared in Colorado Review, New American Writing, Verse, VOLT, Witness, and other journals. She teaches creative writing at San Francisco State University.
Daily Listings
< previous month | show all AUGUST | next month >
6 AUGUST 2020 — thursday
7 AUGUST 2020 — friday
8 AUGUST 2020 — saturday
9 AUGUST 2020 — sunday
10 AUGUST 2020 — monday
11 AUGUST 2020 — tuesday
12 AUGUST 2020 — wednesday
13 AUGUST 2020 — thursday
14 AUGUST 2020 — friday
15 AUGUST 2020 — saturday
16 AUGUST 2020 — sunday
17 AUGUST 2020 — monday
18 AUGUST 2020 — tuesday
19 AUGUST 2020 — wednesday
20 AUGUST 2020 — thursday
21 AUGUST 2020 — friday
22 AUGUST 2020 — saturday
23 AUGUST 2020 — sunday
24 AUGUST 2020 — monday
25 AUGUST 2020 — tuesday
26 AUGUST 2020 — wednesday
27 AUGUST 2020 — thursday
28 AUGUST 2020 — friday
29 AUGUST 2020 — saturday
30 AUGUST 2020 — sunday
31 AUGUST 2020 — monday