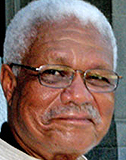 Al Young
Levertov Tribute: Al Young, Anita Barrows, more
22 JUNE 2014 — sunday
Poetry Flash presents a tribute reading for The Collected Poems of Denise Levertov, with Al Young, Anita Barrows, Peter Dale Scott, and David Shaddock, request ASL interpreters one week in advance from editor@poetryflash.org, wheelchair accessible, Diesel, A Bookstore, 5433 College Avenue, Oakland, 3:00 (510/653-9965, dieselbookstore.com)


MORE ABOUT THE READERS
New Directions has recently released The Collected Poems of Denise Levertov. Born in England in 1923, Levertov emigrated to the U.S. in 1948, and died in 1997. She was the author of more than twenty books of poetry along with books of criticism and translation; she was poetry editor for The Nation. She was one of the greatest poets of the twentieth century, an environmentalist, and an antiwar activist. Kenneth Rexroth called her "the most subtly skillful poet of her generation, the most profound, the most modest, the most moving." At this tribute, her poems will be read with comments and stories. The readers will be:
Anita Barrows is a poet, translator, and clinical psychologist. Her books of poems include The Road Past the View, Quarterly Review of Literature Contemporary Poetry Series Award winner, 1992, and A Record, Riverstone Press Award winner, 1998. She's a prolific translator from French, Italian, and German, among which is her best-selling translation, with Joanna Macy, of Rilke's Book of Hours.
Peter Dale Scott is a former Canadian diplomat and UC professor; he is a poet, writer, and reseacher. His latest book of poems is Tilting Point. His other poetry books include the three volumes of his trilogy Seculum: Coming to Jakarta: A Poem About Terror, Listening to the Candle: A Poem on Impulse, and Minding the Darkness: A Poem for the Year 2000. He was awarded the Lannan Poetry Award in 2002.
Poet and psychotherapist David Shaddock studied poetry with Levertov at UC Berkeley. Among his books of poems are This Place Where Something's Missing Lives and Dreams Are Another Set of Muscles. He's won the Ruah Magazine Power of Poetry Award and the International Peace Poem prize; his play, In a Company of Seekers, was performed at the Festival of Two Worlds in Spoleto, Italy.
Al Young is an acclaimed novelist and poet. California Poet Laureate from 2005 to 2008, he's prodigiously published; recent books of poems are Coastal Nights and Inland Afternoons and Something About the Blues. Among his honors are NEA, Fulbright, and Guggenheim fellowships, The Richard Wright Award for Literary Excellence, Northern California Book Reviewers' Fred Cody Award, and the 2011 Thomas Wolfe Award.
Daily Listings
< previous month | show all AUGUST | next month >
6 AUGUST 2020 — thursday
7 AUGUST 2020 — friday
8 AUGUST 2020 — saturday
9 AUGUST 2020 — sunday
10 AUGUST 2020 — monday
11 AUGUST 2020 — tuesday
12 AUGUST 2020 — wednesday
13 AUGUST 2020 — thursday
14 AUGUST 2020 — friday
15 AUGUST 2020 — saturday
16 AUGUST 2020 — sunday
17 AUGUST 2020 — monday
18 AUGUST 2020 — tuesday
19 AUGUST 2020 — wednesday
20 AUGUST 2020 — thursday
21 AUGUST 2020 — friday
22 AUGUST 2020 — saturday
23 AUGUST 2020 — sunday
24 AUGUST 2020 — monday
25 AUGUST 2020 — tuesday
26 AUGUST 2020 — wednesday
27 AUGUST 2020 — thursday
28 AUGUST 2020 — friday
29 AUGUST 2020 — saturday
30 AUGUST 2020 — sunday
31 AUGUST 2020 — monday