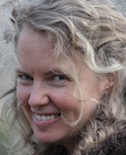 Kasey Jueds
Kasey Jueds and Keetje Kuipers
1 MAY 2014 — thursday
Poetry Flash presents a poetry reading by Keetje Kuipers and Kasey Jueds, request ASL interpreters one week in advance from editor@poetryflash.org, wheelchair accessible, Moe's Books, 2476 Telegraph Avenue, Berkeley, 7:30 (510/849-2087, www.moesbooks.com)

MORE ABOUT THE READERS
Kasey Jueds's first book of poems, Keeper, is the winner of the 2012 Agnes Lynch Starrett Poetry Prize. Jean Valentine says, "This perceptive, sensual history of a soul grows more bold and mysterious as it unfolds: to show a life pondering what to keep, what to lose, what to leave, and what to find: and discovering that, as an old gravestone says, what we had, we have." Widely published in literary magazines, she's been awarded residencies at the Virginia Center for the Creative Arts, Soapstone, and the Ucross Foundation.
Keetje Kuipers's new book of poems is The Keys to the Jail. Elyse Fenton says, "Quietly ferocious, The Keys to the Jail is full of love and after-love poems that come clad with 'bell[ies] of rusted steel.' These poems are not afraid to feel, not afraid of desire or beauty or the inevitability of their respective undoings…" Her first book of poems is Beautiful in the Mouth.
Daily Listings
< previous month | show all AUGUST | next month >
6 AUGUST 2020 — thursday
7 AUGUST 2020 — friday
8 AUGUST 2020 — saturday
9 AUGUST 2020 — sunday
10 AUGUST 2020 — monday
11 AUGUST 2020 — tuesday
12 AUGUST 2020 — wednesday
13 AUGUST 2020 — thursday
14 AUGUST 2020 — friday
15 AUGUST 2020 — saturday
16 AUGUST 2020 — sunday
17 AUGUST 2020 — monday
18 AUGUST 2020 — tuesday
19 AUGUST 2020 — wednesday
20 AUGUST 2020 — thursday
21 AUGUST 2020 — friday
22 AUGUST 2020 — saturday
23 AUGUST 2020 — sunday
24 AUGUST 2020 — monday
25 AUGUST 2020 — tuesday
26 AUGUST 2020 — wednesday
27 AUGUST 2020 — thursday
28 AUGUST 2020 — friday
29 AUGUST 2020 — saturday
30 AUGUST 2020 — sunday
31 AUGUST 2020 — monday