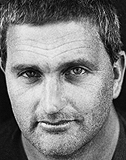 Noah Blaustein
Noah Blaustein and Alan Soldofsky
17 APRIL 2014 — thursday
Poetry Flash presents a poetry reading by Noah Blaustein, Flirt, and Alan Soldofsky, In the Buddha Factory, request ASL interpreters one week in advance from editor@poetryflash.org, wheelchair accessible, Moe's Books, 2476 Telegraph Avenue, Berkeley, 7:30 (510/849-2087, www.moesbooks.com)

MORE ABOUT THE READERS
Noah Blaustein's first book of poems is Flirt. Christopher Merrill says, "Like all great lovers, he promises the world—and then delivers, in poems that employ a range of forms to address the central issues of the heart: how we flirt before we think—and how we then discern order in the new dispensation in which we find ourselves." Widely published in a variety of literary journals, he is also the editor of the anthology Motion: American Sports Poems.
Alan Soldofsky's new book is In the Buddha Factory. Dorianne Laux says, "This first collection from Alan Soldofsky reads like a fourth or fifth—dense with memorable imagery, the grit of experience, and a careful attention to language that together make it resonate with a captivating yogic hum." An important figure in Bay Area poetry, he's been a contributing editor of Poetry Flash and a co-host of a KPFA poetry show. "Planet on the Table." His poems have been published widely in magazines and journals including Poetry Daily, Grand Street, The Georgia Review, Rattle, The Rattling Wall, and The Rumpus. His essays, interviews, and reviews have also appeared in Chelsea, The Writer's Chronicle, and Narrative. He is Director of the MFA in Creative Writing program at San Jose State University.
Daily Listings
< previous month | show all AUGUST | next month >
6 AUGUST 2020 — thursday
7 AUGUST 2020 — friday
8 AUGUST 2020 — saturday
9 AUGUST 2020 — sunday
10 AUGUST 2020 — monday
11 AUGUST 2020 — tuesday
12 AUGUST 2020 — wednesday
13 AUGUST 2020 — thursday
14 AUGUST 2020 — friday
15 AUGUST 2020 — saturday
16 AUGUST 2020 — sunday
17 AUGUST 2020 — monday
18 AUGUST 2020 — tuesday
19 AUGUST 2020 — wednesday
20 AUGUST 2020 — thursday
21 AUGUST 2020 — friday
22 AUGUST 2020 — saturday
23 AUGUST 2020 — sunday
24 AUGUST 2020 — monday
25 AUGUST 2020 — tuesday
26 AUGUST 2020 — wednesday
27 AUGUST 2020 — thursday
28 AUGUST 2020 — friday
29 AUGUST 2020 — saturday
30 AUGUST 2020 — sunday
31 AUGUST 2020 — monday