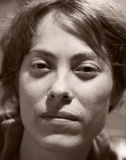 Miriam Bird Greenberg
Miriam Bird Greenberg and Dennis Schmitz
6 APRIL 2014 — sunday
Poetry Flash presents a poetry reading by Miriam Bird Greenberg and Dennis Schmitz, request ASL interpreters one week in advance from editor@poetryflash.org, wheelchair accessible, Diesel, A Bookstore, 5433 College Avenue, Oakland, 3:00 (510/653-9965, dieselbookstore.com)

MORE ABOUT THE READERS
Miriam Bird Greenberg's first book of poems, All night in the new country, was the winner of the 2012 Sixteen Rivers Press Poets-Under-Forty Chapbook Contest. Camille T. Dungy says, "Though there is heat in this collection, fire and friction, all the energy is directed toward basic survival.…But each poem catalogs a truth both ravished and ravishing, with such stark and startling images that I could not put the pages down." She's held fellowships from the Poetry Foundation, a Stegner at Stanford University, Provincetown Fine Arts Work Center, and the National Endowment for the Arts.
Dennis Schmitz's new book of poems is Animism. David St. John says of his work, "There is a radiant wisdom that has always infused the poetry of Dennis Schmitz, a remarkable light that is able to reflect precisely off even the most corrupted surfaces of our daily world. Since reading his very first collection, the astonishing We Weep for Our Strangeness, I have always thought of Schmitz's poems as the secular prayers of the sanest voice in an often insane world." He is the author of eight books of poems, including The Truth Squad and About Night: Selected and New Poems, and his honors include the Shelley Memorial Award, two Pushcart Prizes, and fellowships from the Guggenheim Foundation and the National Endowment for the Arts.
Daily Listings
< previous month | show all AUGUST | next month >
6 AUGUST 2020 — thursday
7 AUGUST 2020 — friday
8 AUGUST 2020 — saturday
9 AUGUST 2020 — sunday
10 AUGUST 2020 — monday
11 AUGUST 2020 — tuesday
12 AUGUST 2020 — wednesday
13 AUGUST 2020 — thursday
14 AUGUST 2020 — friday
15 AUGUST 2020 — saturday
16 AUGUST 2020 — sunday
17 AUGUST 2020 — monday
18 AUGUST 2020 — tuesday
19 AUGUST 2020 — wednesday
20 AUGUST 2020 — thursday
21 AUGUST 2020 — friday
22 AUGUST 2020 — saturday
23 AUGUST 2020 — sunday
24 AUGUST 2020 — monday
25 AUGUST 2020 — tuesday
26 AUGUST 2020 — wednesday
27 AUGUST 2020 — thursday
28 AUGUST 2020 — friday
29 AUGUST 2020 — saturday
30 AUGUST 2020 — sunday
31 AUGUST 2020 — monday