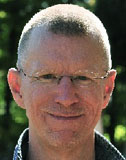 Patrick Donnelly
Patrick Donnelly and Robert Thomas
30 MARCH 2014 — sunday
Poetry Flash presents a poetry reading by Patrick Donnelly and Robert Thomas, wheelchair accessible, request ASL interpreters one week in advance from editor@poetryflash.org, Diesel, A Bookstore, 5433 College Avenue, Oakland, 3:00 (510/653-9965, dieselbookstore.com)

MORE ABOUT THE READERS
Patrick Donnelly's recent book of poems is Nocturnes of the Brothel of Ruin. Jane Hirshfield says of it, "Patrick Donnelly's urgent and brilliant poems embrace the omnivorous bonfires of transience and desire; by that permeable vow, they enter the surety of the lasting." The book was a 2013 finalist for the Lambda Literary Award for Gay Poetry. His first collection is The Charge. Donnelly was also the co-translator of the 141 poems in The Wind from Vulture Peak: The Buddhification of Japanese Waka in the Heian Period. He is an associate editor for Poetry International.
Robert Thomas's new book, a work of fiction tentatively titled Bridge, is forthcoming this fall. His first book of poems, Door to Door, was the winner of the 2001 Poets Out Loud Prize from Fordham University, chosen by Yusef Komunyakaa, and his second is Dragging the Lake. Chase Twichell said, "Thomas can enter another consciousness, century, or personal history with as much facility as he moves through his own life and world.…this is poetry written in the pure American English of the present moment. Dragging the Lake is smart, funny, moving, and profound." Thomas's poems have been widely published in magazines including The Atlantic Monthly, Field, and The Iowa Review.
Daily Listings
< previous month | show all AUGUST | next month >
6 AUGUST 2020 — thursday
7 AUGUST 2020 — friday
8 AUGUST 2020 — saturday
9 AUGUST 2020 — sunday
10 AUGUST 2020 — monday
11 AUGUST 2020 — tuesday
12 AUGUST 2020 — wednesday
13 AUGUST 2020 — thursday
14 AUGUST 2020 — friday
15 AUGUST 2020 — saturday
16 AUGUST 2020 — sunday
17 AUGUST 2020 — monday
18 AUGUST 2020 — tuesday
19 AUGUST 2020 — wednesday
20 AUGUST 2020 — thursday
21 AUGUST 2020 — friday
22 AUGUST 2020 — saturday
23 AUGUST 2020 — sunday
24 AUGUST 2020 — monday
25 AUGUST 2020 — tuesday
26 AUGUST 2020 — wednesday
27 AUGUST 2020 — thursday
28 AUGUST 2020 — friday
29 AUGUST 2020 — saturday
30 AUGUST 2020 — sunday
31 AUGUST 2020 — monday