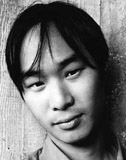 Tung-Hui Hu
Tung-Hui Hu and Benjamin Paloff
13 MARCH 2014 — thursday
Poetry Flash presents a poetry reading by Tung-Hui Hu, Greenhouses, Lighthouses, and Benjamin Paloff, request ASL interpreters one week in advance from editor@poetryflash.org, wheelchair accessible, Moe's Books, 2476 Telegraph Avenue, Berkeley, 7:30 (510/849-2087, www.moesbooks.com)

MORE ABOUT THE READERS
Tung-Hui Hu's new poetry collection is Greenhouses, Lighthouses; the James D. Phelan Literary Award Committee says, "Hu's writing exhibits an alchemical yet materially sound sensibility that challenges what we think we know and undermines what we want to believe." He is the author of two previous collections, The Book of Motion, winner of the Avery Hopwood Award, and Mine, winner of the Eisner Award.
Benjamin Paloff's new book of poems is The Politics. D. A. Powell says, "In The Politics, Benjamin Paloff speaks from within some of the finest aspects of classical philosophical poetry's tunics, without wearing any of the garments instructive-side out. He's far more politic than that—nimble in wit, provocatively contemporary, and, foremost, a moving and imaginative new voice." A poetry editor at Boston Review, he has published numerous translations from Polish and Russian.

Daily Listings
< previous month | show all AUGUST | next month >
6 AUGUST 2020 — thursday
7 AUGUST 2020 — friday
8 AUGUST 2020 — saturday
9 AUGUST 2020 — sunday
10 AUGUST 2020 — monday
11 AUGUST 2020 — tuesday
12 AUGUST 2020 — wednesday
13 AUGUST 2020 — thursday
14 AUGUST 2020 — friday
15 AUGUST 2020 — saturday
16 AUGUST 2020 — sunday
17 AUGUST 2020 — monday
18 AUGUST 2020 — tuesday
19 AUGUST 2020 — wednesday
20 AUGUST 2020 — thursday
21 AUGUST 2020 — friday
22 AUGUST 2020 — saturday
23 AUGUST 2020 — sunday
24 AUGUST 2020 — monday
25 AUGUST 2020 — tuesday
26 AUGUST 2020 — wednesday
27 AUGUST 2020 — thursday
28 AUGUST 2020 — friday
29 AUGUST 2020 — saturday
30 AUGUST 2020 — sunday
31 AUGUST 2020 — monday