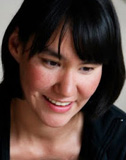 Joan Naviyuk Kane
Joan Naviyuk Kane, Wendy Chin-Tanner, and Danniel Schoonebeek
9 MARCH 2014 — sunday
Poetry Flash presents a poetry reading by Joan Naviyuk Kane, winner of the Donald Hall Prize in Poetry, Wendy Chin-Tanner, and Danniel Schoonebeek, all reading from their new books, wheelchair accessible, request ASL interpreters one week in advance from editor@poetryflash.org, Diesel, A Bookstore, 5433 College Avenue, Oakland, 3:00 (510/653-9965, dieselbookstore.com)


MORE ABOUT THE READERS
Joan Naviyuk Kane's new book of poems is Hyperboreal, winner of the 2012 Donald Hall Prize in Poetry. Sherwin Bitsui says of the book, "I am mesmerized by these poems, their sonorous pathways across time and place; how they absorb and let me linger in their stark beauty." Inupiaq from Alaska, her recent awards include the 2013 Native Arts and Cultures Foundation Literature Fellowship. Her first book of poems, The Cormorant Hunter's Wife, received a Whiting Writers' Award.
Wendy Chin-Tanner's debut poetry collection is Turn. "How do we forgive? How do we evolve? What makes us human? Turn wrestles with our ideas of race, gender, abuse, love, sex, motherhood, and death." Garrett Hongo writes of it, "Once within the universe of these splendidly phrased and crafted poems, one recognizes that the force that gives a driving momentum to this collection is of one a unified and earthly eros." She's a founding editor at Kin Poetry Journal and poetry editor at The Nervous Breakdown. She was educated at Cambridge University in the UK, and now lives in Portland, Oregon.
Danniel Schoonebeek's recent book is American Barricade. His work has appeared in Poetry, Tin House, Fence, Boston Review, BOMB, Indiana Review, jubilat, Guernica, Denver Quarterly, Colorado Review, Gulf Coast, and elsewhere. A recipient of residencies and fellowships from Poets House, the Juniper Institute, Summer Literary Seminars, and Oregon State University, he writes a column on poetry for The American Reader, hosts the Hatchet Job reading series in Brooklyn, and edits the PEN Poetry Series.
Daily Listings
< previous month | show all AUGUST | next month >
6 AUGUST 2020 — thursday
7 AUGUST 2020 — friday
8 AUGUST 2020 — saturday
9 AUGUST 2020 — sunday
10 AUGUST 2020 — monday
11 AUGUST 2020 — tuesday
12 AUGUST 2020 — wednesday
13 AUGUST 2020 — thursday
14 AUGUST 2020 — friday
15 AUGUST 2020 — saturday
16 AUGUST 2020 — sunday
17 AUGUST 2020 — monday
18 AUGUST 2020 — tuesday
19 AUGUST 2020 — wednesday
20 AUGUST 2020 — thursday
21 AUGUST 2020 — friday
22 AUGUST 2020 — saturday
23 AUGUST 2020 — sunday
24 AUGUST 2020 — monday
25 AUGUST 2020 — tuesday
26 AUGUST 2020 — wednesday
27 AUGUST 2020 — thursday
28 AUGUST 2020 — friday
29 AUGUST 2020 — saturday
30 AUGUST 2020 — sunday
31 AUGUST 2020 — monday