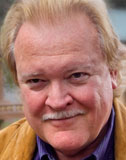 Robert McDowell
Robert McDowell and Terri Glass
6 MARCH 2014 — thursday
Poetry Flash presents a poetry reading by Robert McDowell, The World Next to This One, and Terri Glass, request ASL interpreters one week in advance from editor@poetryflash.org, wheelchair accessible, Moe's Books, 2476 Telegraph Avenue, Berkeley, 7:30 (510/849-2087, www.moesbooks.com)


MORE ABOUT THE READERS
Robert McDowell's new book of poems is The World Next to This One. He is the author, co-author, editor and translator of fifteen books, including Poetry as Spiritual Practice, The More We Get Together: The Sexual and Spiritual Practice of Love, and Sound and Form in Modern Poetry. His poetry has been anthologized in Best American Poetry and elsewhere. He is the founding editor/publisher (with Lysa McDowell and Mark Jarman) of Story Line Press and co-founder of The Poet's Prize. Among his other projects, he co-founded and co-edited The Reaper magazine with Mark Jarman.
Terri Glass has published a book of nature poetry, The Song of Yes, about which Susan Wooldridge says, "I treasure these poems immersed in wild nature, taking us to where the starfish cling, following the fox path to a 'surprise of deer' in an experience of spirit and the hushed purity of 'the God hour.'" She's done years of all kinds of poetry teaching and served as Program Director for California Poets in the Schools from 2008 to 2011. Her poems have been widely published in literary journals and anthologized in Shadow and Light, Mountains & In Between, and elsewhere.
Daily Listings
< previous month | show all AUGUST | next month >
6 AUGUST 2020 — thursday
7 AUGUST 2020 — friday
8 AUGUST 2020 — saturday
9 AUGUST 2020 — sunday
10 AUGUST 2020 — monday
11 AUGUST 2020 — tuesday
12 AUGUST 2020 — wednesday
13 AUGUST 2020 — thursday
14 AUGUST 2020 — friday
15 AUGUST 2020 — saturday
16 AUGUST 2020 — sunday
17 AUGUST 2020 — monday
18 AUGUST 2020 — tuesday
19 AUGUST 2020 — wednesday
20 AUGUST 2020 — thursday
21 AUGUST 2020 — friday
22 AUGUST 2020 — saturday
23 AUGUST 2020 — sunday
24 AUGUST 2020 — monday
25 AUGUST 2020 — tuesday
26 AUGUST 2020 — wednesday
27 AUGUST 2020 — thursday
28 AUGUST 2020 — friday
29 AUGUST 2020 — saturday
30 AUGUST 2020 — sunday
31 AUGUST 2020 — monday