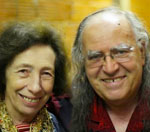 Adelle and Jack Foley
Jack and Adelle Foley, Clara Hsu, Ivan Argüelles
20 FEBRUARY 2014 — thursday
Poetry Flash presents a Poetry Hotel Press reading, with Jack Foley and Adelle Foley, Clara Hsu, and Ivan Argüelles, request ASL interpreters one week in advance from editor@poetryflash.org, wheelchair accessible, Moe's Books, 2476 Telegraph Avenue, Berkeley, 7:30 (510/849-2087, www.moesbooks.com, poetryhotelpress.com)


MORE ABOUT THE READERS
This reading will be an inaugural celebration of Poetry Hotel Press, founded by Jack Foley and Clara Hsu.
Ivan Argüelles's new book of poems is Ars Poetica. Andrew Joron says, "One of the most visionary poets of our time, Ivan Argüelles is that rarest of poets: one who practices at the very precipice of being." He received the Poetry Society of Americaís William Carlos Williams Award in 1989, the Before Columbus Foundationís American Book Award in 2010, and their Lifetime Achievement Award in 2013.
Jack Foley's new book of poems is EYES, his selected poems. Dana Gioia says, "Jack Foley's work represents that rare commodity—genuinely avant-garde poetry. He takes the polyphonic forms of Pound and Eliot and pushes them into possibilities open only to performance-based art." His Visions & Affiliations: A California Literary Timeline 1940-2005 has been acclaimed both in England and the USA. He's published eleven books of poetry, seven books of criticism, and a book of translations of the French singer/songwriter Georges Brassens. Foley has received a Lifetime Achievement Award from the Berkeley Poetry Festival, and June 5, 2010 was proclaimed Jack Foley Day in Berkeley.
Besides performing with Jack, Adelle Foley is a haiku poet; she has published a book of haiku, Along the Bloodline.
Clara Hsu's new book of short stories is Babouche Impromptu and Other Moroccan Sketches. Her first book of poems, Mystique, received Honorable Mention at the 2010 San Francisco Book Festival. She was the featured poet in the 33rd issue of the British poetry journal Erbacce. She's also a musician and a translator.
Daily Listings
< previous month | show all AUGUST | next month >
6 AUGUST 2020 — thursday
7 AUGUST 2020 — friday
8 AUGUST 2020 — saturday
9 AUGUST 2020 — sunday
10 AUGUST 2020 — monday
11 AUGUST 2020 — tuesday
12 AUGUST 2020 — wednesday
13 AUGUST 2020 — thursday
14 AUGUST 2020 — friday
15 AUGUST 2020 — saturday
16 AUGUST 2020 — sunday
17 AUGUST 2020 — monday
18 AUGUST 2020 — tuesday
19 AUGUST 2020 — wednesday
20 AUGUST 2020 — thursday
21 AUGUST 2020 — friday
22 AUGUST 2020 — saturday
23 AUGUST 2020 — sunday
24 AUGUST 2020 — monday
25 AUGUST 2020 — tuesday
26 AUGUST 2020 — wednesday
27 AUGUST 2020 — thursday
28 AUGUST 2020 — friday
29 AUGUST 2020 — saturday
30 AUGUST 2020 — sunday
31 AUGUST 2020 — monday