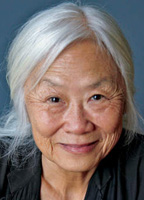 Maxine Hong Kingston
Stafford Tribute: Maxine Hong Kingston, Earll Kingston, more
26 JANUARY 2014 — sunday
Poetry Flash presents a Tribute to William Stafford, celebrating Ask Me: 100 Essential Poems, by the late William Stafford, edited by his son Kim Stafford, this event features readings of Stafford's work by Maxine Hong Kingston, Earll Kingston, Joseph Lease, and Tiffany Higgins, wheelchair accessible, request ASL interpreters one week in advance from editor@poetryflash.org, Diesel, A Bookstore, 5433 College Avenue, Oakland, 3:00 (510/653-9965, dieselbookstore.com)


MORE ABOUT THE READERS
This reading will celebrate the release of Ask Me: 100 Essential Poems, by William Stafford, a beloved American poet, winner of the National Book Award for his Traveling through the Dark and 1971-1972 Poetry Consultant for the Library of Congress (what is now U.S. Poet Laureate). The new collection is edited by his son, Kim Stafford. The readers will be Maxine Hong Kingston, whose latest book is the memoir-in-verse I Love a Broad Margin to My Life, and whose numerous prose works of fiction and nonfiction have won her both the National Book Award and the National Book Critics Circle Award among many other honors; the actor Earll Kingston, who has been featured in many theatre productions with literary themes; Joseph Lease, whose latest book of poems, his fourth, is Testify and whose poetry has been featured on NPR and anthologized in Best American Poetry; and Tiffany Higgins, translator and author of the prize-winning Aeneas stares into her helmet.
Daily Listings
< previous month | show all AUGUST | next month >
6 AUGUST 2020 — thursday
7 AUGUST 2020 — friday
8 AUGUST 2020 — saturday
9 AUGUST 2020 — sunday
10 AUGUST 2020 — monday
11 AUGUST 2020 — tuesday
12 AUGUST 2020 — wednesday
13 AUGUST 2020 — thursday
14 AUGUST 2020 — friday
15 AUGUST 2020 — saturday
16 AUGUST 2020 — sunday
17 AUGUST 2020 — monday
18 AUGUST 2020 — tuesday
19 AUGUST 2020 — wednesday
20 AUGUST 2020 — thursday
21 AUGUST 2020 — friday
22 AUGUST 2020 — saturday
23 AUGUST 2020 — sunday
24 AUGUST 2020 — monday
25 AUGUST 2020 — tuesday
26 AUGUST 2020 — wednesday
27 AUGUST 2020 — thursday
28 AUGUST 2020 — friday
29 AUGUST 2020 — saturday
30 AUGUST 2020 — sunday
31 AUGUST 2020 — monday