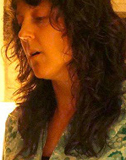 Janée J. Baugher
Janée J. Baugher and Patti Trimble
23 JANUARY 2014 — thursday
Poetry Flash presents poetry reading by poet Janée J. Baugher, The Body's Physics, and poet, writer, and visual artist Patti Trimble, request ASL interpreters one week in advance from editor@poetryflash.org, wheelchair accessible, Moe's Books, 2476 Telegraph Avenue, Berkeley, 7:30 (510/849-2087, www.moesbooks.com)


MORE ABOUT THE READERS
Janée J. Baugher's new book of poems is The Body's Physics. Peggy Shumaker says of it, "Her words praise 'what we see and can never see.' Her profound conversations with visual art, deep journeys of mind and body, remind us to be 'open in the manner that a sea opens.' Fine gifts, these poems." Her first collection is Coördinates of Yes. Widely published in nonfiction, fiction, and poetry, she's collaborated with visual artists, composers, and choreographers, and her work has been adapted for the stage and set to music at the University of Cincinnati, Interlochen Center for the Arts, Dance Now! Ensemble in Florida, and elsewhere.
Patti Trimble is a writer and visual artist who divides her time between northern California and Sicily. She often links her poetry and visual art as a personal response to landscape, myth, and environmental concerns, and is known for lyric performances of her poetry with music. Her poems are published in anthologies and journals, four chapbooks, and Small Craft Advisories, a spoken word CD. She has performed her poetry at hundreds of venues and was co-creator—and for a decade, featured poet—at the Tuolumne Poetry Festival in Yosemite National Park. Her writing has received grants from the Lannan Foundation; Poets & Writers; a Pushcart nomination; finalist awards from Glimmer Train literary journal, a P&W California Writer's Award; and artist residencies at Djerassi Foundation.
Daily Listings
< previous month | show all AUGUST | next month >
6 AUGUST 2020 — thursday
7 AUGUST 2020 — friday
8 AUGUST 2020 — saturday
9 AUGUST 2020 — sunday
10 AUGUST 2020 — monday
11 AUGUST 2020 — tuesday
12 AUGUST 2020 — wednesday
13 AUGUST 2020 — thursday
14 AUGUST 2020 — friday
15 AUGUST 2020 — saturday
16 AUGUST 2020 — sunday
17 AUGUST 2020 — monday
18 AUGUST 2020 — tuesday
19 AUGUST 2020 — wednesday
20 AUGUST 2020 — thursday
21 AUGUST 2020 — friday
22 AUGUST 2020 — saturday
23 AUGUST 2020 — sunday
24 AUGUST 2020 — monday
25 AUGUST 2020 — tuesday
26 AUGUST 2020 — wednesday
27 AUGUST 2020 — thursday
28 AUGUST 2020 — friday
29 AUGUST 2020 — saturday
30 AUGUST 2020 — sunday
31 AUGUST 2020 — monday