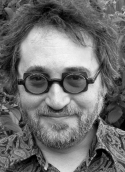 Hugh Behm-Steinberg and Larry O. Dean
1 AUGUST 2013 — thursday
Poetry Flash presents a reading by Hugh Behm-Steinberg and Larry O. Dean, wheelchair accessible, request ASL interpreters one week in advance from editor @poetryflash.org, Moe's Books, 2476 Telegraph Avenue, Berkeley, 7:30 (510/849-2087, moesbooks.com)

More about the readers
Hugh Behm-Steinberg's new book of poems is The Opposite of Work, illustrated by Mary Behm-Steinberg. Kevin Prufer says, "In these anxious, playful, formally brilliant poems, Hugh Behm-Steinberg meditates on the inapproachable divine, the complexity of political culpability, and the evasive idea of the self.…It is the mind at work here that is so astonishing, and the processes of rigorous thought that are so important, and so lovely." A former Stegner Fellow at Stanford University, he is the author of a previous book of poems, Shy Green Fields, and of a libretto for the children's opera, The Clever Wife, commissioned by the Houston Grand Opera and performed in Houston area elementary schools.
Larry O. Dean's new book of poems is Brief Nudity, a collection that features many San Francisco-centric poems, in particular a series of persona poems based on the Loma Prieta earthquake. Katrina Vandenberg says, "Poet Larry O. Dean is equal parts storyteller, trickster, and urban philosopher. He's a rock and roll showman and a gifted speaker in tongues." The author of ten chapbooks, widely anthologized, translated into Chinese, Italian, and Spanish, he is also a singer, songwriter, and producer who has worked both solo and with several 'hard pop' bands, including Malcontent and The Me Decade.
Daily Listings
< previous month | show all OCTOBER | next month >
16 OCTOBER 2021 — saturday
17 OCTOBER 2021 — sunday
18 OCTOBER 2021 — monday
19 OCTOBER 2021 — tuesday
20 OCTOBER 2021 — wednesday
21 OCTOBER 2021 — thursday
22 OCTOBER 2021 — friday
23 OCTOBER 2021 — saturday
24 OCTOBER 2021 — sunday
25 OCTOBER 2021 — monday
26 OCTOBER 2021 — tuesday
27 OCTOBER 2021 — wednesday
28 OCTOBER 2021 — thursday
29 OCTOBER 2021 — friday
30 OCTOBER 2021 — saturday
31 OCTOBER 2021 — sunday