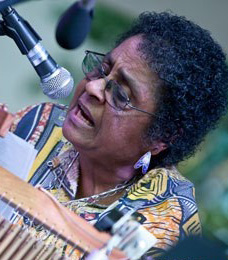 Avotcja
Avotcja and Q.R. Hand
11 JULY 2013 — thursday
Poetry Flash presents a Taurean Horn Press reading by Avotcja and Q.R. Hand, Jr., wheelchair accessible, request ASL interpreters one week in advance from editor @poetryflash.org, Moe's Books, 2476 Telegraph Avenue, Berkeley, 7:30 (510/849-2087, moesbooks.com)

More about the readers
Avotcja's latest book of poems is With Every Step I Take. Al Young says, "Introducing herself as storyteller, 'wild woman,' a 'bonafide sound junkie,' nothing slows or dampens Avotcja's passion for the power and wonder of music. Guided by ancient, ancestral wisdom, she refuses to separate poetry and storytelling from song or dance." She has published in English and Spanish in the USA, Mexico, and Europe, and she's been widely anthologized. She's shared stages with Sonia Sanchez, Piri Thomas, Janice Mirikitani, Diane di Prima, Michael Franti, Jayne Cortez, and with José Montoya's Royal Chicano Air Force. Also a musician and percussionist, she is a Bay Area star with her jazz group Avotcja & Modúpue.
Q. R. Hand's new book of poems is Whose Really Blues. Reginald Lockett said, "Q. R. Hand's poetry traverses the terrain of form, music, and language. This is an inspired, well crafted poetry that is political in intent and spirited in execution and defies any comparison to any literary predecessors or contemporary schools of thought." A beloved figure in Bay Area poetry who has read as a featured poet at many venues, Hand's previous publications include We Came to Play and I Speak to the Poet in Man.
Daily Listings
< previous month | show all AUGUST | next month >
8 AUGUST 2022 — monday
9 AUGUST 2022 — tuesday
10 AUGUST 2022 — wednesday
11 AUGUST 2022 — thursday
12 AUGUST 2022 — friday
13 AUGUST 2022 — saturday
14 AUGUST 2022 — sunday
15 AUGUST 2022 — monday
16 AUGUST 2022 — tuesday
17 AUGUST 2022 — wednesday
18 AUGUST 2022 — thursday
19 AUGUST 2022 — friday
20 AUGUST 2022 — saturday
21 AUGUST 2022 — sunday
22 AUGUST 2022 — monday
23 AUGUST 2022 — tuesday
24 AUGUST 2022 — wednesday
25 AUGUST 2022 — thursday
26 AUGUST 2022 — friday
27 AUGUST 2022 — saturday
28 AUGUST 2022 — sunday
29 AUGUST 2022 — monday
30 AUGUST 2022 — tuesday
31 AUGUST 2022 — wednesday