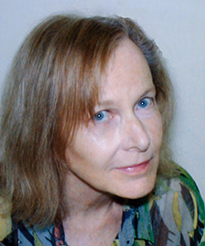 Joan Houlihan
Joan Houlihan, Rusty Morrison, Ellen Doré Watson
10 JULY 2013 — wednesday
Poetry Flash presents a poetry reading to kick off the Colrain Poetry Manuscript Conference, featuring faculty members Joan Houlihan, Rusty Morrison, Ellen Doré Watson, wheelchair accessible, request ASL interpreters one week in advance from editor @poetryflash.org, Moe's Books, 2476 Telegraph Avenue, Berkeley, 7:30 (510/849-2087, moesbooks.com)

More about the readers
Joan Houlihan founder of the conference, has published four books of poetry, including The Us, named a "must-read" book of 2009 by Massachusetts Center of the Book, and The Mending Worm, winner of the Green Rose Award from New Issues Press. Among other critical endeavors, she's author of Boston Comment, a series of critical essays archived online.
Rusty Morrison, co-editor and publisher of Omnidawn, has published four books of poems, including After Urgency, 2012 winner of the Dorset Prize from Tupelo Press; the true keeps calm biding its story, winner of the Academy of American Poets' James Laughlin Award, Northern California Book Award, Ahsahta's Sawtooth Prize, and the DiCastagnola Award from the Poetry Society of America; and Whethering, winner of the Colorado Prize for Poetry.
Ellen Doré Watson is director of the Poetry Center at Smith College and poetry editor of The Massachusetts Review. She's published five books of poems, most recently Dogged Hearts. Her collection Ladder Music won the New England/New York Award from Alice James Press.
Daily Listings
< previous month | show all AUGUST | next month >
8 AUGUST 2022 — monday
9 AUGUST 2022 — tuesday
10 AUGUST 2022 — wednesday
11 AUGUST 2022 — thursday
12 AUGUST 2022 — friday
13 AUGUST 2022 — saturday
14 AUGUST 2022 — sunday
15 AUGUST 2022 — monday
16 AUGUST 2022 — tuesday
17 AUGUST 2022 — wednesday
18 AUGUST 2022 — thursday
19 AUGUST 2022 — friday
20 AUGUST 2022 — saturday
21 AUGUST 2022 — sunday
22 AUGUST 2022 — monday
23 AUGUST 2022 — tuesday
24 AUGUST 2022 — wednesday
25 AUGUST 2022 — thursday
26 AUGUST 2022 — friday
27 AUGUST 2022 — saturday
28 AUGUST 2022 — sunday
29 AUGUST 2022 — monday
30 AUGUST 2022 — tuesday
31 AUGUST 2022 — wednesday