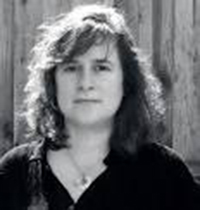 Kim Shuck
Kim Shuck and Chris Hoffman
20 JUNE 2013 — thursday
Poetry Flash presents a reading by Kim Shuck and Chris Hoffman, wheelchair accessible, request ASL interpreters one week in advance from editor @poetryflash.org, Moe's Books, 2476 Telegraph Avenue, Berkeley, 7:30 (510/849-2087, moesbooks.com)

More about the readers
Chris Hoffman is an organization consultant, an ecopsychologist, and a poet. His new book of poems is Realization Point, about which Joseph Bruchac says, "Chris Hoffman's poems speak with a clear meditative voice that bridges the gap between our human lives and the healing spirit of nature." His previous book of poetry is Cairns; he's published a book of psychology/spirituality, The Hoop and the Tree: A Compass for Finding a Deeper Relationship with All Life, and the Afro-pop band Monkey Siren has recorded his lyrics on two CDs.
Kim Shuck is a writer, weaver, and bead artist, who has shown her artwork on four continents. Shuck's new book, Rabbit Stories, is fiction, about which Deborah A. Miranda says, "Kim Shuck's collection is tenderly constructed, finely woven in and out of Rabbit Food's lifetime as girl, young woman, new mother, and mature artist. Rabbit Stories winds through waters layered with dream and memory, loops around time with a wise/cracking humor." Kim Shuck's first book of poetry, Smuggling Cherokee, won the Diane Decorah Award from the Native Writers' Circle of the Americas.
Daily Listings
< previous month | show all OCTOBER | next month >
16 OCTOBER 2021 — saturday
17 OCTOBER 2021 — sunday
18 OCTOBER 2021 — monday
19 OCTOBER 2021 — tuesday
20 OCTOBER 2021 — wednesday
21 OCTOBER 2021 — thursday
22 OCTOBER 2021 — friday
23 OCTOBER 2021 — saturday
24 OCTOBER 2021 — sunday
25 OCTOBER 2021 — monday
26 OCTOBER 2021 — tuesday
27 OCTOBER 2021 — wednesday
28 OCTOBER 2021 — thursday
29 OCTOBER 2021 — friday
30 OCTOBER 2021 — saturday
31 OCTOBER 2021 — sunday