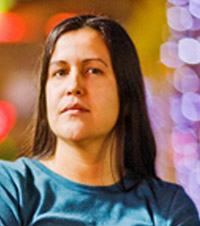 Natalie Diaz
James Arthur, Natalie Diaz, and Tomás Q. Morin
9 JUNE 2013 — sunday
Poetry Flash presents a reading by James Arthur, Natalie Diaz, and Tomás Q. Morin, wheelchair accessible, request ASL interpreters one week in advance from editor@poetryflash.org, Diesel, A Bookstore, 5433 College Avenue, Oakland, 3:00 (510/653-9965, dieselbookstore.com)

More about the readers
James Arthur's debut book of poems is Charms Against Lightning; speaking of his work, Poetry's Don Share says, "This is one of those poems—we get them once in a while—where we don't know who the poet is, and you see this poem, and you go 'Who is this? How did they do that?'" His work has appeared in The New Yorker, Poetry, Ploughshares, and many other journals.
Natalie Diaz's first book of poems is When My Brother Was an Aztec: "In these distinctively voiced poems, a sister struggles with a brother's addiction to meth, while everyone, from Antigone and Houdini to Huitzilopochtli and Jesus, is invited in to hash it out." The book is a Lannan Literary Selection. Diaz is Mojave and an enrolled member of the Gila River Indian Community. She played professional basketball for several years in Europe and Asia, and now lives in Mojave Valley, Arizona and directs a language revitalization program at Fort Mojave, her home reservation.
Tomás Q. Morin's collection, A Larger Country, was chosen for the American Poetry Review/Honickman First Book Prize: "It charts the land we call memory, a place the dead and the outcast call home; the map that emerges shows us that while the terrain of memory may be rugged, filled with both joy and sorrow, it is also 'the world we always said we wanted.'" Tomás Q. Morín's poems have appeared in New England Review, Slate, Threepenny Review, Narrative, and elsewhere. He teaches literature and writing at Texas State University.
Daily Listings
< previous month | show all OCTOBER | next month >
16 OCTOBER 2021 — saturday
17 OCTOBER 2021 — sunday
18 OCTOBER 2021 — monday
19 OCTOBER 2021 — tuesday
20 OCTOBER 2021 — wednesday
21 OCTOBER 2021 — thursday
22 OCTOBER 2021 — friday
23 OCTOBER 2021 — saturday
24 OCTOBER 2021 — sunday
25 OCTOBER 2021 — monday
26 OCTOBER 2021 — tuesday
27 OCTOBER 2021 — wednesday
28 OCTOBER 2021 — thursday
29 OCTOBER 2021 — friday
30 OCTOBER 2021 — saturday
31 OCTOBER 2021 — sunday